Upgrade your Tower Speakers with Newer JL Audio M-Series Speakers...
After many years out on the lake or the ocean, speakers are exposed to sun and salt. Neither the sun's UV rays or salt are easy on a speaker and wear them down over time, your boat on the other hand has years of enjoyment left. Upgrading your speakers to newer JL Audio M-Series 7.7" speakers and 1" Tweeters will prolong the fun for years to come. This is the easiest upgrade to modernize your aging tower speakers.
...Or Transform your towers into something a little more extreme.
From our research and visits to boat shows across America, one thing we have noticed is the Mastercraft communitiy's love for Wet Sounds. The most popular arrangement we have seen is a pair of REV10 Tower speakers on the outside of the tower and a single REV410 in the middle. This will give your boat enough output to literally sound like a concert on the water. These come in white and black, and also have an available Mastercraft specific tower adapter plate that allows the use of factory installed brackets on properly equipped 2007+ boats.
Update the look and sound of your cockpit speakers.
As with your wake tower speakers on your boat, your cockpit speakers are subject to the sun's UV rays as well. Upgrading these interior speakers as will as the towers will give you a uniform look and sound throughout you boat. Note: These are different from the Tower Component speakers above, and will not work for tower mounting.
Power your new speakers with newer, more effecient and more powerful amplifiers.
Mobile Audio Technology has evolved leaps and bounds in the last decade, and amplifiers are no exception. They have become smaller, more powerful, and more effecient all while producing a better, natural sound. These new speakers deserve a new power plant to drive them, and listed below are some of our more popular, compatible amplifiers.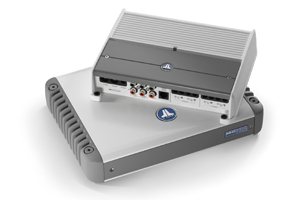 Or any of these JL Audio Amplifiers found here.
JL Audio Marine Amplifiers
---
Still need help?
Please call us for more information at 800-854-5821. We will be more than happy to assist you and create a package specific for your needs. We know the kinds of challenges you'll face when upgrading your stereo on your boat, and we'll be able to offer tips to make your upgrade easier.