Kicker has just launched a new enclosure featuring the shallow yet powerful CompRT subwoofers in a down-firing enclosure, paired with their reFLEX passive radiators for higher output without the need for a larger vented enclosure.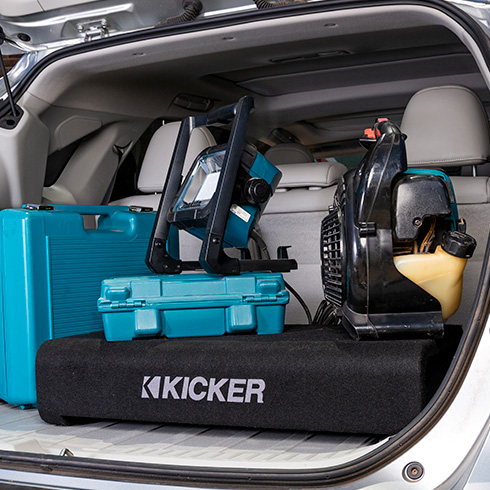 These enclosures feature some stylish design cues from their plush black carpet to silver embroidered Kicker logo. The rounded edges of the enclosure make it look a lot more special than your standard gray carpet one-size-fits-all prefabricated enclosures. The down-fring design also keeps the subwoofer and radiator out of harm's way, and allows the subwoofer to efficiently load off of the floor of the vehicle.
Like the TCWRT enclosures made to fit behind the seat of a truck, these enclosures feature the Kicker ReFLEX Passive Radiator. These are specifically weighted passive drivers which look very similar to the active subwoofer it shares the enclosure with (It isn't a second active subwoofer!). The radiator is a reactionary device which is able to give the enclosure the performance characteristics of a larger system, and allows the output of lower frequencies than the driver is comfortable with on its own. Using a passive radiator rather than a conventional vented enclosure allows the design to remain very small, control woofer excursion, and have no port noise, while still enjoying the benefits.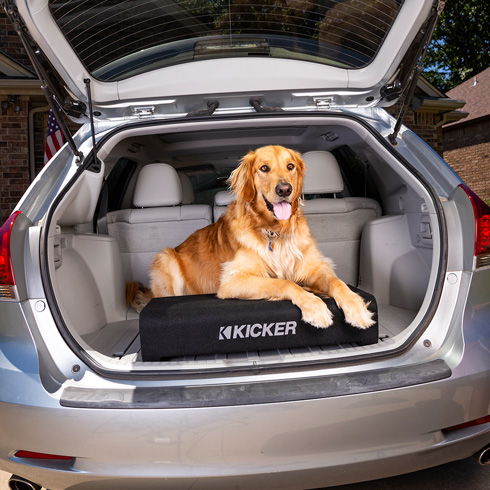 Recent Posts
Our latest TV advert for our retail stores. Online customer? Give us a call at 800-854-5821 or se …

Our new location in Bentonville, Arkansas is now officially operating with a soft opening! We've …

Kicker has just launched a new enclosure featuring the shallow yet powerful CompRT subwoofers …