Joplin, MO

EMPLOYMENT OPPORTUNITIES - Click Here to apply online!
History
Our Joplin, Missouri location was opened in 1994. Our employees have been involved in turning the 6,700 square foot building into the custom car audio shop it is today! Located on historic Route 66 downtown on the corner of 7th and Main, the store draws business from the traffic of the surrounding four states due to its central location and reputation of being a premier car audio store.
Window Tinting
Click here to find out more about Creative Window Tinting.
Contact Us
Creative Audio Joplin
629 S Main St
Joplin, MO 64801
Monday - Friday 9a-6p
Saturday 9a-5p
Sunday ClosedP:
417-623-3388
E:
dquestelle@creativeaudio.net
Click HERE To Apply Online!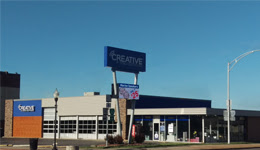 SERVICES

• Cruise Control by Rostra
• iPod/MP3 Integration by iSimple
• Leather Kits by Katzkin
• Mobile Audio from JL Audio, Kicker, Alpine, Sony & JVC
• Marine & Powersports Audio from JL Audio, Kicker & Alpine with Lakeside service avaliable
• Window Tint by Viper
• Remote Start, Security & Keyless Entry by Viper
• Intoxalock Ignition Interlock Installation


Edmond Sherrod - Director of Retail Operations
Started: 03/15/2001
Started at our Pittsburg, KS location and through the years has also worked at our Joplin store before becoming the regional manager for our Sedalia, Springfield and Columbia locations.
15+ years expereience

Dakotah Questelle - Regional Manager
Started: 4/29/14
Certifications - MECP Mobile Product Specialist, Basic MECP
Became MECP Certified in 2015
Very well known in the local Minitruck scene and a member of Definite Obsessions car group.

Zach Medlock - Installation
Started: 11/20/10
Certifications - Advanced MECP
Became Basic certified on 6/17/2011 and Advanced on 3/18/2016. Experienced in window tint, remote start, and auto technologies. 2010 graduate of Installers Institute from Holly Hill Florida in which he is also MESA certified.

Dave Sisco - Installation
Started: 08/03/1999
Certifications - Advanced MECP, Mobile Product Specialist
Became Advanced Certified in 2009
15 years experience in custom fabrication, remote start and automotive technologies

Dalton Youngblood - Mobile Product Specialist
Started: 10/31/16
Certifications - MECP Product Specialist & Basic Installation
Became Basic certified on 1/27/2017

Matt Jones - Mobile Product Specialist
Started 03/17/2017
Became Basic MECP Certified in 2017

Daniel Sharp - Mobile Product Specialist
Started 01/30/2017
Certifications - MECP Basic Installation
Became Basic certified on 8/3/2017

Kyle Bottoroff - Mobile Product Specialist
Started: 1/22/18
Certifications - MECP Product Specialist
Became Basic certified on 4/9/2018