Springfield, MO
EMPLOYMENT OPPORTUNITIES - Click Here to apply online!
History
Purchased from Auto Air and Audio in 2001 at 717 West Sunshine "2-Blocks west of Bass Pro". This store just underwent a major million dollar expansion and renovation, completed in 2009, and is in the process of further renovation, with new sound rooms, a new exterior, and new state-of-the-art installation facility! Our whole Creative team are specialists in car audio, OEM integration, marine audio, and vehicle restyling.
Window Tinting
Click here to find out more about Creative Window Tinting.
Contact Us
Creative Audio Springfield
717 W. Sunshine
Springfield, MO 65807
Monday - Friday 9a-6p
Saturday 9a-5p
Sunday ClosedP:
417-831-7320
E:
cpuett@creativeaudio.net
E:
esherrod@creativeaudio.net
Click HERE To Apply Online!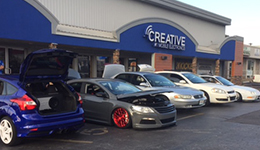 ---

Edmond Sherrod - Director of Retail Operations
Started: 03/15/2001
Started at our Pittsburg, KS location and through the years has also worked at our Joplin store before becoming the regional manager for our Sedalia, Springfield and Columbia locations.
15+ years expereience

Corey Puett - Regional Manager
Started: 04/28/2015
Certifications - Basic MECP, and MECP Mobile Product Specialist
Became MECP Certified in 2015
Brett Bogner - Manager
Started: 05/23/2018
Certifications - Mobile Product Specialist
Became MECP certified in 2018

Scott Dickerson - Sales Associate/Installation
Started: 04/01/2008
Certifications - MECP Mobile Product Specialist
Became MECP Certified in 2013